Dexter Laundry
For the past 120 years, Dexter has been helping people realize their dreams by building high-quality, commercial grade washers and dryers in the heart of America. What's your big dream?
For over a century, Dexter Laundry has been helping people and customers around the world process laundry faster and more efficiently. Headquartered in Fairfield, Iowa, Dexter designs, builds and assembles all of their products in their manufacturing facility here in the United States. As an employee-owned company, they are committed to helping their customers achieve long-term success by providing them with laundry solutions they can depend on.
INTRODUCING THE NEW VENDED C‑SERIES LINE!
With many new features and upgrades like DexterLive Controls, the new C-Series line is Dexter's smartest, most powerful, line-up yet.
Eastern Laundry Systems is an authorized Dexter distributor. To request more information on how Dexter can help your laundry be more successful, contact us at [email protected]. Don't forget to ask us about our Summer Finance Special running through August!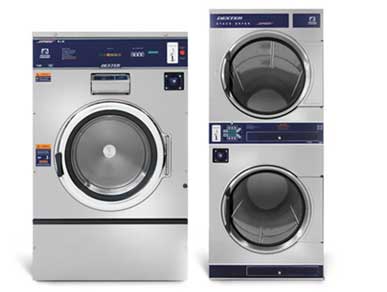 DexterLive Controls
DexterLive controls are the next generation in laundry from Dexter. Offering more programmable options and features than ever before, they are designed to help you create the perfect settings for your business. Take advantage of the free access to DexterLive.com to make your DexterLive controls even more powerful.
Maximize Revenue Generation
DexterLive controls offer many up-sell features and promotion options to help you maximize revenue generation. With multiple up-sell features for both washers and dryers, you can choose the perfect cycle offerings to fit your business.
Simple Interface
To streamline the laundry process for your customers all DexterLive controls share a common interface with durable rubber push buttons, an improved display, multiple language options, and common detailed customer prompts.
Programming
With DexterLive controls there is no need for proprietary software or devices. With free access to DexterLive.com you can create user files and customize your equipment to fit your store and business needs. Your custom files can then be saved and transferred to your equipment via USB drive. With easy to access USB ports on all C-Series product, you can program your machines faster and easier than ever.
Maintenance & Installation
DexterLive controls offer adjustable final extract speeds on washers and many other customizable features that make them flexible and perfect for almost any installation.
With the new quick test and error code features, you have the tools and information you need to keep your equipment running in top condition
Experiencing an issue with your Dexter Laundry Equipment?
Call us at 508-828-WASH (9274) or send us an email.
BROWSE OUR STORE AND SHOP WITH CONFIDENCE